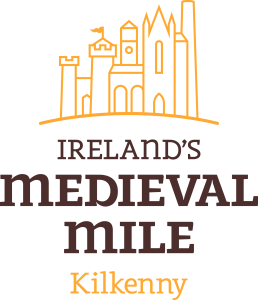 Ireland's Medieval Mile is where history meets the here and now.
This is a unique discovery trail running through the heart of Kilkenny, linking St. Canice's Cathedral and a stunning Anglo-Norman castle with all sorts of medieval magic in-between. There's no experience quite like it.
Stepping through the centuries, you'll see historic buildings, streets and slipways. You'll pass a Tudor inn, a Dominican abbey blooming with stained glass, and the only example of an early 17th century merchant's house in Ireland.
You can visit a recreated medieval garden, climb St. Canice's Round Tower (the oldest standing structure on the city), and take a glimpse inside the lives of the Butler family and their servants at Kilkenny Castle. Or feel the hairs rise and your heart beat at tales of witchcraft in Kyteler's Inn… here since 1324.  
But it's not all ancient history. Kilkenny is one of Ireland's most cosmopolitan cities, with a thriving festival scene and a warm, creative and fun population. A mosey down the Medieval Mile is as much an immersion in the sights, smells and sounds of the modern city as the heritage that set it on its way.  
History never felt more alive.   
Download your own copy of  Medieval Mile in Kilkenny – List of Things To See – Click here