Events at Kilkenny Chamber
To find out more information on upcoming events, please click on the event below or contact the Chamber directly.
The events schedule is updated on a regular basis, if there are specific events, training needs you would like to see included, please do not hesitate to contact the Chamber on admin@kilkennychamber.com to discuss further. 
Between March 2020 and December 2021, Kilkenny Chamber had to make changes to the way it runs its events. Due to Covid-19, we were unable to host our many events, including our Chamber Chats and our AGM. These were held on line via Zoom, and recordings of all our Chats can be found here and on our Youtube Channel.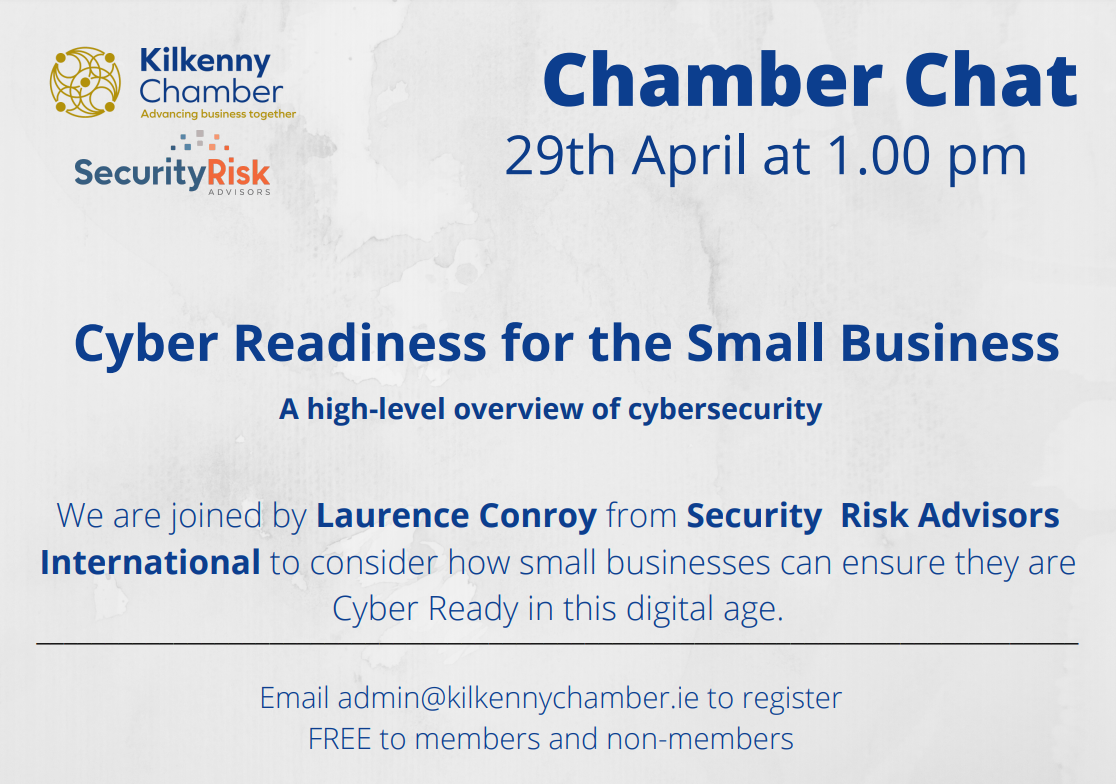 We've all heard of businesses being the victim of cyber crime, through phishing and other more sophisticated schemes. It can cause much inconvenience and embarrassment, as well as being financially expensive.
Chamber Director, Laurence Conroy, is joining us this Thursday 29th April at 1.00 pm to go through what we, as small businesses, can do to reduce the risk of cyber crime. With the right tools, we can minimise the risk of having to deal with this very prevalent issue.
Register your interest in attending by emailing admin@kilkennychamber.ie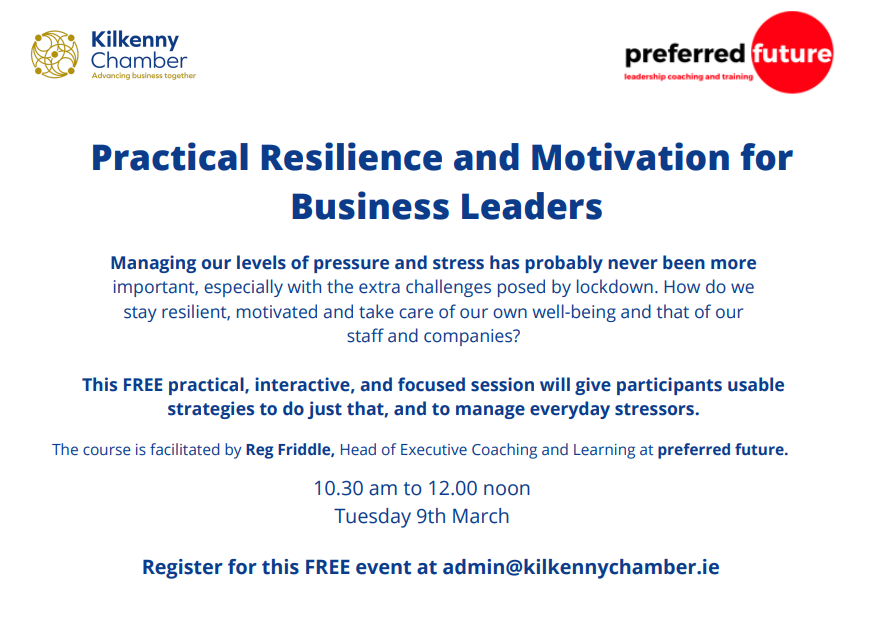 Reg Friddle, from preferred future, is facilitating this practical, interactive, and focused session which will give participants usable strategies to stay resilient and motivated, and to take care of our own well being and that of our staff and companies. 
You can register here. 
Minding your Body, Pocket and Mind
To mark International Women's Day we have joined with AIB to bring together 3 professional women to help us consider how we can look after our Nutritional, Financial, and Mental wellbeing.
Linda Murray from Beoga Nutrition, Marie Kent from Irish Life, and Noelle Roche from @connectandchangecoaching come together to give us tips on how we can help our Body, Pocket and and Mind. 
Registration (gotowebinar.com)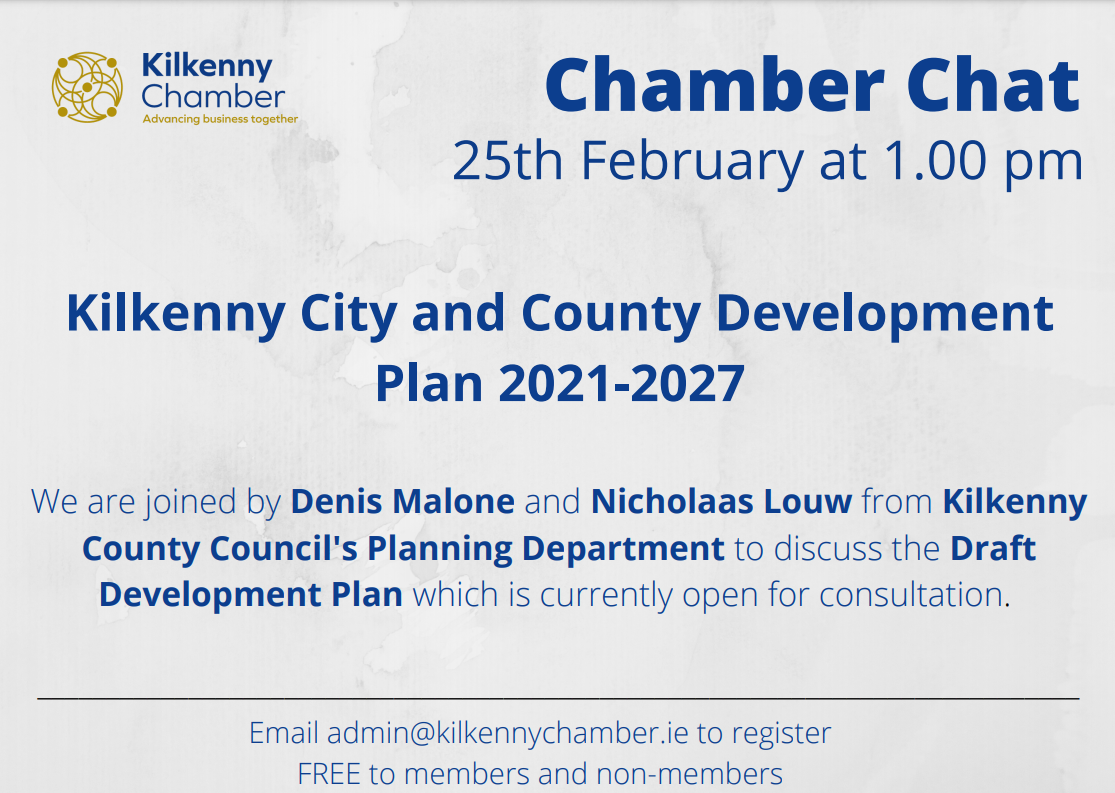 The Draft Kilkenny County Development Plan 2021-2027 is on public display until 12th March.  Following recent open meetings, we are joined by Denis Malone and Nicholaas Louw from Kilkenny County Council's Planning Department to discuss the effects that the plan may have on businesses in the city and county.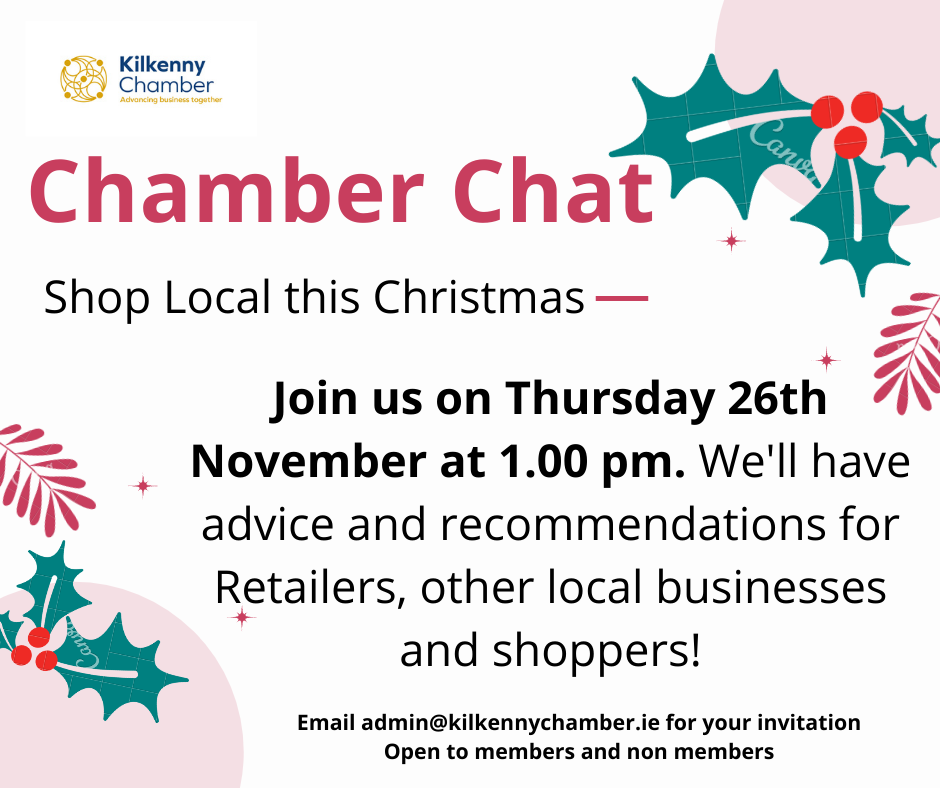 It's important to support local this Christmas, and this Chamber Chat will look at look at how we can do this.  Email admin@kilkennychamber.ie to register for your invitation. 
Our Chamber Chats return after a Summer like no other.  Join us as we hear from Tim Butler, Director of Services at Kilkenny County Council, to update us on the Council's projects and activities in recent months, and what's planned for the future.  Register at admin@kilkennychamber.ie to receive your invitation. 
Sign up to our newsletter for all our latest content straight to your inbox!