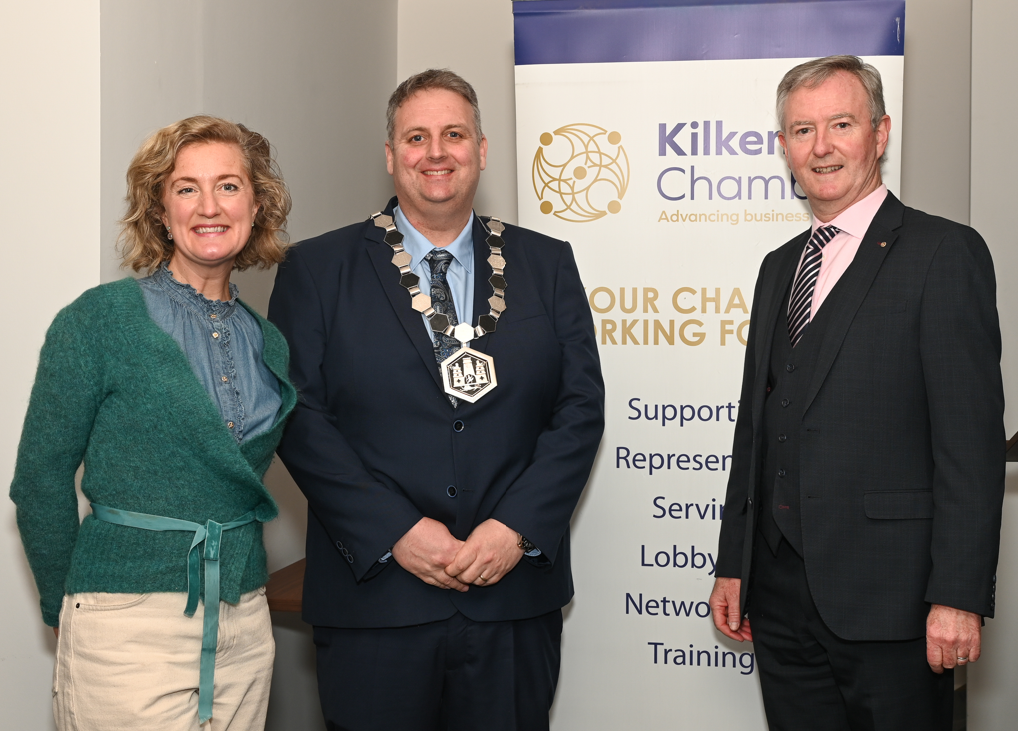 The Annual General Meeting of Kilkenny Chamber took place on Thursday 20th April at 1.00 pm, in the Berkeley Suite, Pembroke Hotel, Patrick Street, Kilkenny.
Brian Keyes, Editorial Operations Director at Iconic Media, was re-elected for a second term of office. Looking back on 2022, he noted that as normal service has almost completely resumed we can reflect on a year that saw a considerable turnaround in business sentiment.  He made reference to remarks made by former President Mary Robinson at the 100th birthday celebrations of Chambers Ireland, where she challenged business leaders to be bold and fight for policies that will make a real difference in our lives and our future, in relation to tackling climate change.
The President noted the good news headlines in Kilkenny can encourage us all to take heart, listing Tirlán's relocation to the Abbey Quarter, State Street's new Headquarters coming on stream this year, and Abbot's investment in the city and county with their new Diabetes plant.  He recognised that there are considerable challenges ahead but with continued engagement and encouragement by Chamber, the common goal is the promotion and betterment of Kilkenny as a place to do business and work in.
He noted that the Chamber's financial position is in a very positive place, although it would be remiss not to note a significant increase in the costs incurred in staging events, something the Chamber must be mindful of over the coming year.
The following officers were elected: Vice President: Anne Barber; Hon Secretary / Company Secretary: Owen Sweeney; Hon. Treasurer: Gordon Murphy; Hon. Assistant Treasurer: Mary Brennan; PR Officer: John Masterson
The following Directors were elected:
Marion Acreman, Colin Ahern, Paschal Bergin, Michael Brannigan, Margaret Clancy, Martin Costello, Jason Dempsey, Gavin Dixon, Gary Graham, Claire McInerney Brown, Tom O'Connor, Deirdre Shine.