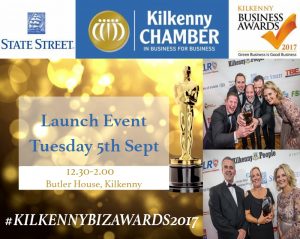 The Kilkenny Business Awards is back and it's going to be bigger than ever – The launch event takes place next week and you're invited!
Time: 12.30pm – 2.00pm
Date: Tuesday 5th September
Venue: Butler House, Kilkenny
The launch event provides a valuable networking opportunity as the first stage of the selection process in the Kilkenny Business Awards 2017 and will include a presentation by our main sponsor State Street International, overall business winner in 2016 Hermitage Genetics and the President of Kilkenny Chamber.
Drop us an email at admin@kilkennychamber.ie with your name to secure a place at the event!